It has been noticed that Samsung a50, a51, a30s, a70, a10 phones sometimes have problems with the finger sensor.
It works badly, then it does not work at all, and naturally it is not the same here as in America. There they would immediately be taken to the service and received another for the duration of the repair.
Our people first of all try to solve the problem themselves and the first thing that comes to mind, or answers from the network, is to calibrate the fingerprint sensor.

But such a Samsung has not provided any function, no one has created applications. Consequently, it doesn't seem to be possible to calibrate — you can only use the screen sensor (there are such applications).
What to do? There is one solution, more precisely two, but I will not repeat it as I described it earlier — to fix the calibration through an update.
You can reset your fingerprint, which is essentially no different from calibration (for example, battery calibration is a data reset).
This procedure is not difficult to follow. To do this, you need to select «Applications» in the settings. Then click on the so-called ellipsis (vertical), which in fact always means advanced settings.
Now click on the line «Show system applications». There will already be much more of them than ordinary ones, but that's okay.
Click search (icon) and start writing: com.samsung.android. Not necessarily everything completely. Usually the first six letters are enough and click on the first link that you see in the search results.
Then scroll down until you see «Memory». Did you see? Select. Now the last step remains. Click «Clear data».

It's all. In conclusion, I just note that if your Samsung a50, a51, a30s, a70, a10, or another has physical problems with the fingerprint scanner, then this naturally will not help.
Just like any other super-duper calibration won't help. Then it is possible that the scanner itself needs to be changed. Good luck.
Another good way to enter the code in the phone book is — *# 2663 #. Then click on the «TSP FW Update (General)» button.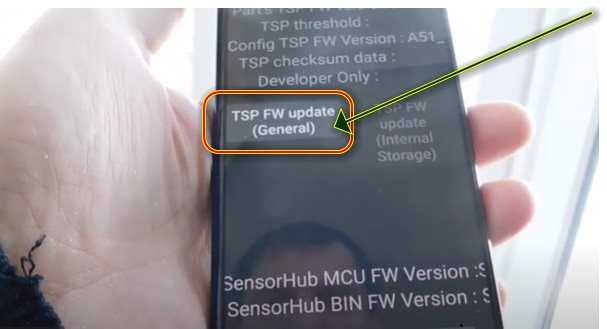 It will calibrate and restart your phone at the end of the process. That's all. Good luck.